Concern: Menstrual-Cramps
Remedy: Ginger Tea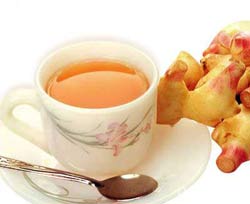 ​
Why it works:


Ginger contains two substances, gingerols and shagaols, that tone the muscles of the digestive tract, neutralize stomach acid and stimulate the production of digestive juices.


Ginger is often used as a general remedy to settle the stomach.


It also has numerous pain-reducing and anti-cramping compounds.


How to use it:


There are several ways to take ginger.


You can eat a piece of fresh, peeled ginger, up to a half-inch piece, four times a day, as needed.


Or you can steep a piece of fresh ginger in hot water to make tea.


Health food stores also carry crystallized ginger, where fresh ginger is infused with sugar to make a sweet yet pungent treat.


Ginger is available in powdered, tablet form as well.


What to watch out for:


Ginger can hinder your blood's ability to clot, so avoid it in the few days before and after any surgery or if you are on blood-thinning medication.


If you are suffering from morning sickness, check with your doctor before self-prescribing ginger.
Last edited: