Traditionally, Our Grihapravesh function is done in a very auspicious manner. Right? Once all the Homams and Poojas are done, the function is not complete until the invitees are offered a feast.. Ok! Coming to the Point – Considering the feast, Menu does matter!! These days, housewarming ceremonies preferably serve a good meal to their guests. You can make it at home or order the food from outside.
Think in advance the type of menu to be served. Do make your Descriptions very clear and ensure that the food is served fresh. Okies, To make it Simple,, We're giving here a Coarse Menu idea as to what one could serve.. 🙂 
Note : In addition, Your Grihapravesh milk is first offered to the Gods, then it is given to the Guests as Prasatham.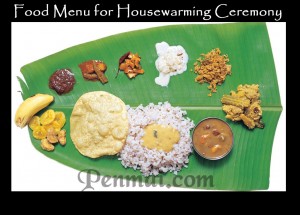 Here's giving you Some Menu Ideas.. Pick One Set, Depending on the time of the function!
If its an Early morning Ceremony, then the Menu should be :
Idly
Venpongal
Vadai
Kesari
Kothamalli/ Tomato/ Coconut chutney
Sambar
Drink – Tea/Coffee
Optional – Payasam
Lunch Menu
Sweet Pongal
Bisibelabath or Veg Briyani
Curd rice
Kothamalli rice
Plain Rice
Rasam
Koottu
3 Poriyals (Veggies)
Potato Fry or Chips
Dal & Ghee
Pickle
Raita
Papadum
Payasam
Banana
Icecream
+ One Sweet, Any Halwa would be a good option.
Light Tiffins
Any Sweet
Vada & Bonda
Kesari
Sambar and Chutney
Tea/coffee
In General, It can also be assorted Dosas – Chutney/Sambar, Briyani – Raita and Gulab jamun with an Icecream.